Make Your Own

3D eBook Cover in Minutes

Now it's easy to create beautiful and professional eBook covers — even if you've never designed anything in your life —
Just point-and-click with this online tool to design your own book cover in minutes.

Sign Up Now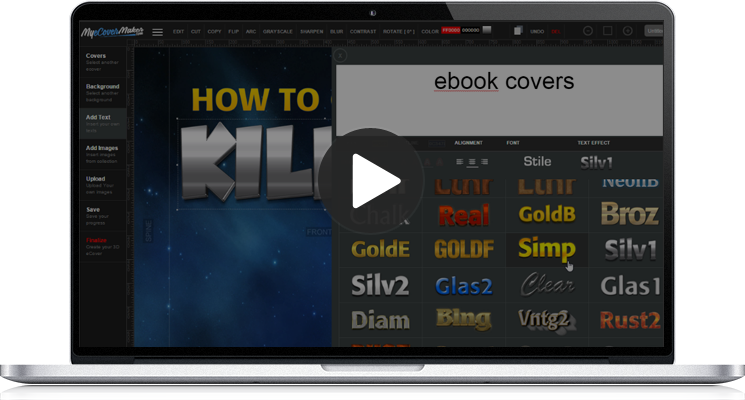 Why Use MyECoverMaker.com?
Here's what you can do WITHOUT Photoshop or any additional downloads.
Dead Simple To Use
All you do is point-and-click. Create your first 3D book cover in as little as 3 minutes.
Over 200 Templates
Choose from 200 custom templates (and counting). Whatever you need, we have a template for it.
Instant Download
With our book cover maker, you can download instantly after you've finished your design.
3D Renders For Marketing
You get a flat cover for your eBook, and a 3D render to show people exactly what they're getting.
Easy Bundle Maker
Easily create a bundle of products image with the click of a mouse. (Book + CD's + checklist, for example.).
1-Click Text Effects
Mind blowing text effects with just one click.
Powerful Editor
Create amazing text effects and custom graphics. Get professional results without the cost.
HD Graphics
Download your 2D and 3D covers up to 3000px in size.
No Downloads
Everything is online — you don't need to download anything
The Fastest And Easiest Way To Create 3D Marketing Mockups
Creating gorgeous 3D eBook covers has never been easier. Start from scratch or choose from one of our professional pre-designed templates. One click and a few seconds later, your design is transformed into a 3D mockup ready for marketing.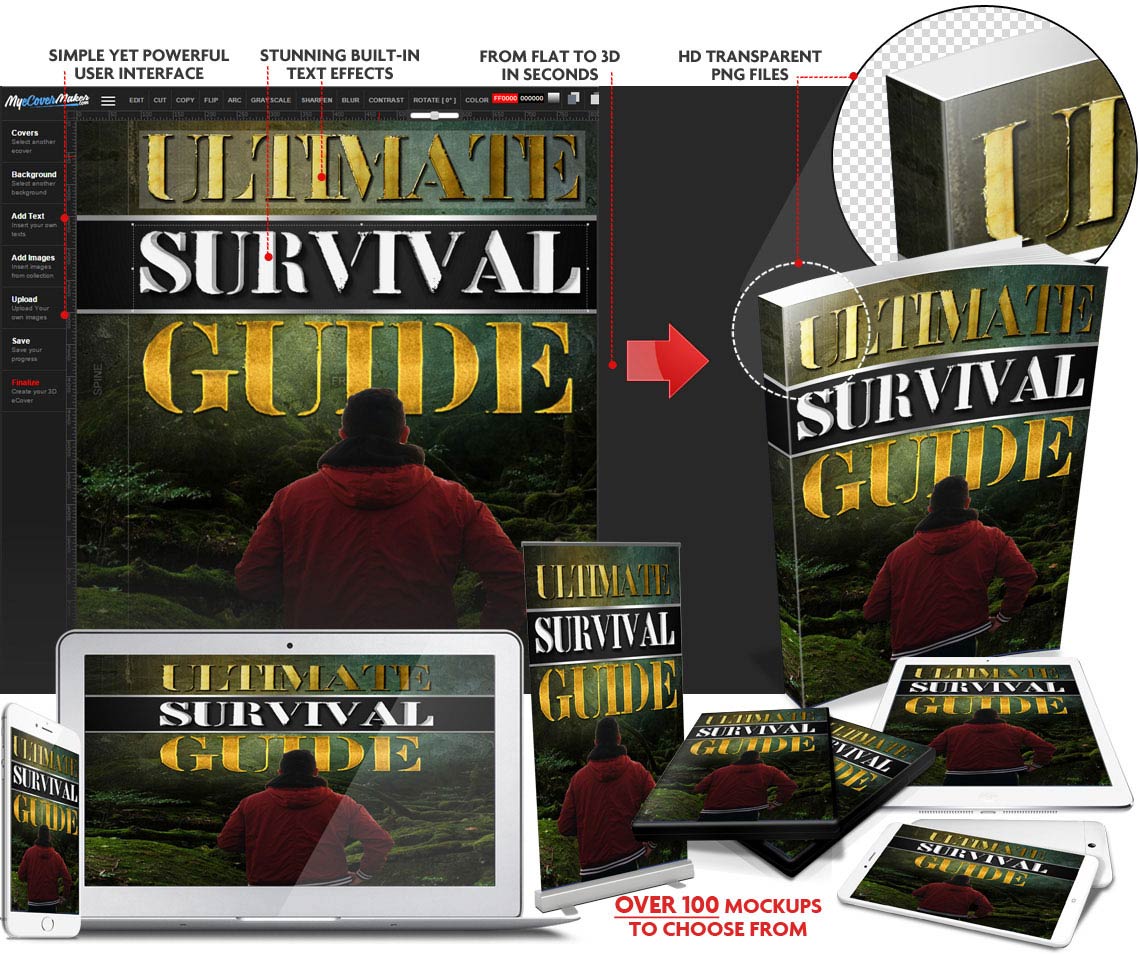 How would YOU like to make these covers yourself in minutes?
Don't have any ideas or design insights? No worries, just pick from our growing range of professionally pre-designed covers and customize it for your needs.
Flexible Pricing
You can make five covers totally free of charge. To access our entire collection of covers, it starts at just $14.95 a month for unlimited covers and downloads.
Casual
5 free trial covers
No Commitments
Full access design and create
your 3D covers and only pay $4.95
to download
Standard Access
Full Access
Unlimited Downloads
+ Banner & Graphic Maker
+ Save Projects
Premium Access
Standard Access +
Unlimited downloads and access to
100+ of professionally predesigned
cover templates.
What Users Say..
The following are original messages sent to us after using our service.
I wanted to thank myecovermaker.com for make a great product. I use myecovermaker.com more than I use Photoshop to make all my online graphics. myecovermaker.com makes it easy for me to create amazing looking graphics without having to be a expert in photo editing software. I recommend this software to all my student. Thank you myecovermaker.com

OMG. I thank God that you have created this website.Very impressive. This site removed a lot of wasted time I might have went through. Don't you guys ever think about shutting this down. Its great when people share their gifts with the world to help others add more value to their life. Thank you so much.

I have to agree with the guy who said, "Holy Sh%t". I absolutely LOVE this site. I can even make brochures and fliers by just choosing 2 dimensional downloads instead of 3. This site makes me feel like a professional. In fact, I'm doing a better job designing my own eCovers than the professionals I hired. LOVE IT!.
Got questions?
If you can't find your answer in the FAQ below, send us an email by filling out the form below and we'll be happy to answer it.
Frequently Asked Questions
Can I cancel at any time?
Yes, you can cancel your account at any time. Once cancelled, your account will remain active for the remaining days you've already paid for.
I only need one cover, so I don't want to sign up for a monthly account.
Start with a free account. It gives you full access to the design tool and all the templates we offer. If you just want one design, you can remove the trial watermark for just $4.95.
Can I use this for Createspace/Kindle Publishing?
Absolutely. Every cover you create can be downloaded at high resolution up to 3000px. You can use these covers in createspace and kindle.
I would like to subscribe, what form of payments do you accept?
We accept all major credit card brands including Visa, Mastercard, American Express, as well as PayPal.
Can I resell covers I've created?
Absolutely. Many of our members use our online software to create designs for clients, either through freelancing or on sites like Fiverr.com
I signed up but I didn't get a confirmation email
Please check your spam folder. In some cases, strict spam filter rules flag our email as spam. If you still can't access your account, please contact us by.
If I sign up for casual or monthly, can I upgrade later?
Yes, you can upgrade or cancel your account anytime during your membership.
Do you have a cover for [YOUR NICHE]?
All of our available covers are displayed in the cover maker. If you can't find what you want, please contact us to make a request and we'll do our best to accommodate.
Will your software work on Mac/Windows/Linux?
Yes. Our software is web based and is accessible through your web browser. So you can use it on any operating system with a browser. We highly recommend Google Chrome for the best user experience.